My Favorite Tea Accoutrement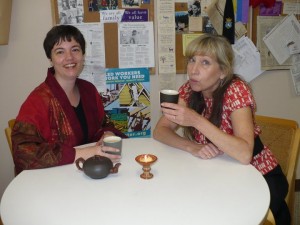 I am often asked for tea-related advice, so I thought it appropriate to share here some of my favorite tea paraphernalia.
Tea Kettle
It's important to heat tea to the correct temperature, which is LESS than boiling for green and white teas. It is worth seeking out an electric tea kettle to simplify the process of heating beneath boiling ("variable temperature" is what to look for). I am fortunate enough to have been given this beauty as a gift, but this one also works fine (I bought it to keep at work) and is much more reasonably priced.
Tea Pot
It's important to use a basket for your loose tea leaves, not a tea ball. The leaves need room to move around, and then you need to be able to remove the leaves so they stop brewing. This ceramic teapot with infuser is hands down my favorite. I have two of them: one for home and one for work.
I also have a Yixing teapot I love (it's in the photo above). It doesn't need a basket because it only brews a couple of cups at a time, and there's a built in strainer to keep the leaves from pouring out the spout. I use it for my jasmine tea.
Timer
I don't have a favorite to show you, but I do recommend something with a beeper. As lovely as the idea of a sand timer is, you have to be watching it to realize the time is up.
Tea Cups
Of course I have favorite tea cups! They are in the photo above, and that's not even the point. The point is: find tea cups you love.
Tea!
There are many places to buy high quality tea leaves on the web, but my favorite is Tao of Tea. Their World Tea Club (a monthly mailing of teas) is an excellent way to experience a wide variety of teas, and to find your favorite. Mine are Jasmine Pearls and Green Earl Grey.