East Bay Interfaith Immigration Prayer Vigil today
Wednesday, August 17 (third Wednesday of every month)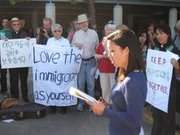 5:30 – 6:30pm
West Contra Costa County Detention Facility
5555 Giant Highway
Richmond, CA 94806
Join the interfaith community for this prayerful, reflective vigil at the West County Detention Facility! Prompted by our beliefs and the understanding that all religions believe in justice, faith communities unite to hold a vigil each month at the West Contra Costa County Detention Facility. Every day, U.S. Immigration and Customs Enforcement (ICE) detains 150-300 immigrants at this facility, tearing apart hundreds of families around the Bay. With prayer and reflection, we shed light on the suffering of the families that are torn apart by an unworkable immigration system.
Gather together in prayerful protest of unjust practices against immigrants! We will share songs, prayers, and listen to powerful testimonies from immigrants and community leaders about those who have been detained.
These monthly vigils are coordinated by the East Bay Interfaith Immigration Coalition (EBIIC).