Starr King School for the Ministry 107th Commencement Celebration, held at the First Unitarian Universalist Society of San Francisco, CA.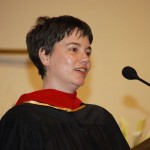 I graduated from Starr King School for the Ministry with my Master of Divinity degree on May 19, 2011. It is our custom at Starr King that the graduates each have two minutes to speak, rather than having a commencement speaker.
It is also our custom that speakers frequently run over their two minutes. Although I didn't quite make the two minute cut, I'm proud to have kept it under three!
Click here to listen (file length is 2:29): Commencement Address 2010 May 19